this is my second installation for this week's IF topic. i thought it fit better than the other one, but i had to get julia to take a picture of it the other day, as it is hanging on the ceiling of her classroom. the drawing is pretty much life-sized; the main figure is about five feet tall.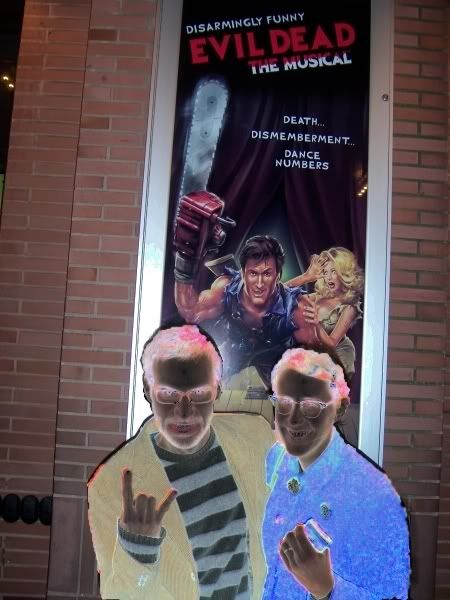 the bonus picture here is of me and julia, after the evil dead musical, which we attended a few weeks ago. thanks to a friend, we received front-row-center seats entirely free. we were right in the "splatter zone"! i only ended up with a single drop of fake blood on my lapel, which somehow got through my plastic poncho. well, also, my white chucks are sort of pink now. you can't see it here, but julia was fairly well-soaked, as one of the characters in the play jumped out and ripped her poncho open just before the blood started flying. it was a riot, and i recommend that if you are thinking of going to the show, make sure to sit in the splatter zone!
****also, please look at my previous post, if you haven't already. i just finished a big watercolor that i'm particularly proud of, and i've shown some of the steps it took to make it.