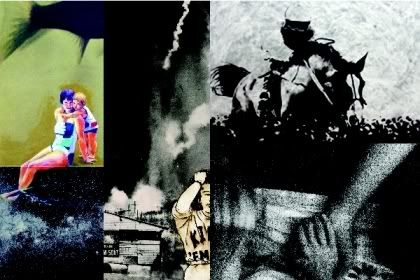 no, i'm not going out with the former first daughter--i'm going to be in a show in a gallery in chelsea, the manhattan gallery district, this february! here are the details:
"Fade Out, Black In"
Jan 31- March 1st
Opening Reception Feb 7th 6-8pm

Curated by: Zeina Assaf
Featured artists: Betty Beth Bartholomew, Ronald P. D. Brandt, Christin Couture, Stanislav Ginzburg, Christina Gundersen, Rachel Hyman, Tine Kindermann, Nina Olson
NY Studio Gallery is pleased to present Fade Out, Black In, a group exhibit dealing with the underlying currents of dark nostalgia and distant memory. From childhood fears and adolescent recollections to the tainted past, the works encompass a pitted feeling of loss, self-reflection, and turbulent dreams. While grappling with disturbing images of the past or a twisted take on reality, the artists' work relates on an emotional level, as well as an aesthetic one.
Fade Out, Black In features mid-career and emerging artists who work in media ranging from photography and sculpture to oil painting and mixed media. Exhibiting both locally and nationally at venues like: Deitch Projects, Secret Project Robot Gallery, The RIDER Project, and St. Ann's Warehouse.
NY Studio Gallery
511 W. 25th St. #6-07 (b/t 10 & 11 Aves)
New York, NY 10001
www.nystudiogallery.com
212.627.3276
Hours: Thurs - Sat, noon - 6 pm or by appointment