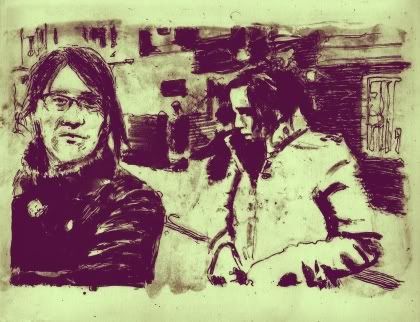 click on them for better detail (it's worth it, i think).
so i made this image via a process called solarplate printing, or solar etching, as it is also known. it is a very nice way to do the look and feel of metal plate etching, without all the acid on your hands and breathing in the aquatint dust and such. check out this guy for more information about it.
by the way, the models here are the lovely julia and emily brandt, wife and sister-in-law of the artist. i'm the artist.
anyhoo, i need your input here! i want to put one of these on my official website, but i cannot decide which one. well, i suppose i could, but i thought it would be an interesting little project to involve all three of you folks who actually stop by here. so what do you say, can you help me?
oh, and if you didn't catch my last post, it's got some nice stuff. click here, and scroll down for the portrait of dr. house!