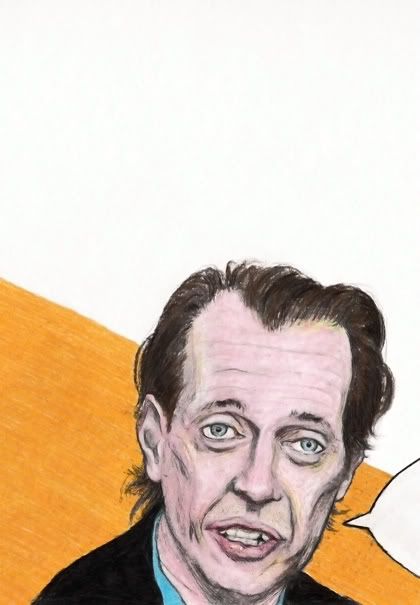 click image for a closer look
this is my contribution to a larger piece that will eventually be manipulated by five--count 'em, five!--artists. here is what the whole thing looks like right now, with my mr. buscemi next to james keegan's giant, talking moth:
by the way, the word balloons are a part of the requirement. this is how it all works:
1. one member of the shelton diagram factory correspondence school begins a drawing or painting.
2. he/she then creates rules for the piece (i.e. you must fill in the empty word balloon and include a new blank word balloon in your drawing, which is the rule here) and mails it to another member artist.
3. the second member adds to the work, following the initiator's guidelines.
4. the second member then mails it to a third, and so on, until the fifth artist receives and adds to the piece, which completes it.
5. the fifth member starts a new artwork, and the cycle begins again!
we had tried for the last couple of years to do a simple one-for-one exchange, but things tended to stagnate after a while. we're hoping that this new system will inspire everyone to keep things going.
if you'd like more information about the shelton diagram factory correspondence school, look up our facebook group, or check out the SDFCS blog at this here link-a-roonie.